Here it is, your SOTW for Week 1!
Now before we get into who won this award, let's talk about how this is going to work. As you all know, we are the most inclusive DFFL there is, so naturally this award is non-binary. The SOTW can be given to any person, animal, object, TV show, podcast, etc. Say you had your fish choose between two starters that week and it helped you win the league, that fish is SOTW! Maybe you tinkered Sunday morning on the dirty toilet in Denny's, guess what? That toilet is SOTW! I think you get the picture. GT will be the contact for all SOTW nominations.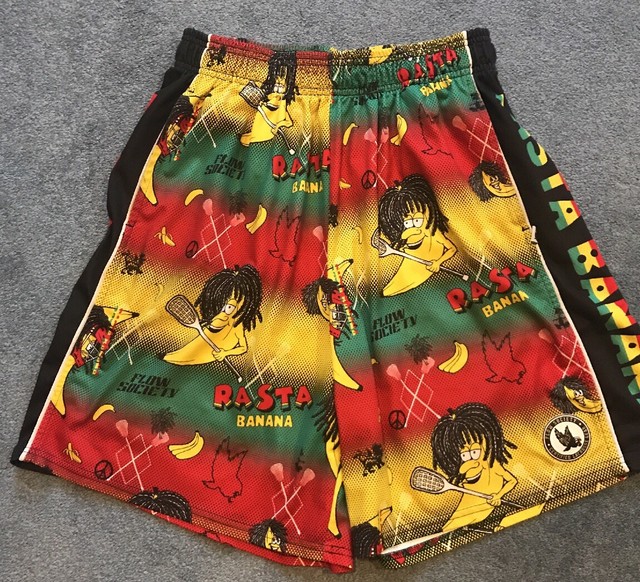 This is a very divisive SOTW if I may say so myself. Some people have referred to these shorts as "fire" (a word I heard some youths say). Others have cited them as being "wack". But no matter what side of the fashion debate you are on, you can't deny that these shorts had magical powers this week.
If you are wondering what I am referring to, see the picture below.
This picture comes to us from a Josh specialist known as Cait B, she has studied him enough to know his tendencies, eating/drinking habits, daily schedule, and PUBG withdrawal. She was able to get close enough to him to be accepted into his one-man wolfpack and live peacefully in their brand new den.
The one thing she doesn't know, is that these Rasta Banana shorts were not for moving into said den. They were meant to act as magical shorts that very day, to help Josh put up 196.5 points, which was the highest score of the week!
Congratulations Rasta Banana, you have done it again!
Cait has sent in the below video as a warning to Josh. Better watch out young man.
So there you have it, your Week 1 Star of the Week!
-GT
Honorable Mentions:
Relevant Teams Division (every member outscored all members of The Athletes, and Don)
Sacko (aka Zegs) (Made 2 roster moves this morning! That is the most activity we have seen from him in years. In addition to that, he won his game and is the division leader of The Athletes, and Don)